I didn't mean to post yet another entry on gowns so soon…but it's been a long day and this is an easier one to write.
So, I devote this day to something often seen in The Generic Wedding: the unattractive bustle.
The bustle is how you tuck up the train of the gown so the bride has better mobility. Typically, this happens just before the couple is introduced at their reception. Bustles have been around forever.
And, when done correctly, can be quite attractive.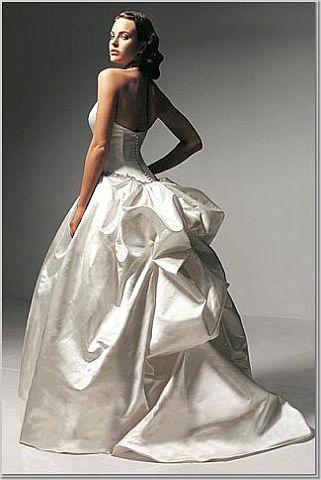 French vs. American
These are the basic options you for bustling your gown. Many come with a pre-determined style, but you can ask your tailor to make changes and it shouldn't be a problem.
French Bustle
Also known as the "under" bustle.
The French bustle tucks a portion of the gown up, usually with ties or snaps. A bridesmaid or Mom of the bride is needed to do this.
The french bustle adds a lot of drama…with the right gown. It looks best when there is a lot of fabric to tuck, the shaping of which creates a nice drape and drama to the back of the gown.


French bustles fail in simpler styles with less fabric to tuck.

When used on sheath or column style gowns, the shape breaks up the length created by the gown, and can make the bride's derrier look larger and her body shorter than it really is. Why? Because a french bustle without a lot of fabric creates a horizontal line. The line breaks up the nice vertical lines of the gown, which are elongating and slimming to anyone's figure.
The American Bustle
Also known as the "over" bustle.
This is one that always looks elegant. It's usually achieved by sewing a few buttons at the small of the back, or somewhere halfway up the skirt. Corresponding loops are sewn (discretely) lower on the skirt. Slip the loops over the buttons and voila, the train is off the ground and we have a lovely drape to look at.

The other, less popular but still attractive, American bustle is achieved with a series of hook and eye enclosures and a cord, which is pulled so the fabric gathers. Think of a venetian blind: pull the cord and the slats compress. It's the same with the gown fabric.



This one creates a distinctly vintage look; something to keep in mind when deciding on a bustle style.
The Wrist or Finger Loop
This is an option I've never actually seen, but love. It's romantic, and it lets you display that train you paid for! A loop, sized either for your finger or your wrist, is attached to the skirt so you can carry it around with you.

And there we have it. Bustles must be chosen carefully and practiced: that backside needs to look fantastic all night.