I know, I know. Even if you were in a royal wedding frenzy last week, you're definitely over it by now. I specifically wasn't going to post anything on the special nuptials that took place across the pond. It's been covered to death, I really wasn't too interested anyway, and, as the boyfriend says: "Didn't we fight a war to make the Brits keep their stuff off our lawn?"
I awoke Friday morning at my usual time, and it was well after the wedding was being aired across the world. I hopped online just to get a glimpse of the gown – you know, the single most important thing about the whole over-hyped day -…and from there, I spent the next four hours watching footage, sifting through photos, and discussing it all with anybody who would listen.
In short, I got into the frenzy at the eleventh hour, and here's why: Kate Middleton was not a woman born into titled society. Yes, her family is wealthy, but we all know the old saying: money doesn't buy you class. And yes, after eight years of dating the heir to the most famous throne in the world, she was bound to have picked up a few things.
But her style on that wedding day was an incredible triumph. Whether you thought she looked magnificent, too old, plain, or whatever… no one can deny that her look was extremely tasteful, appropriate, and worthy of a Princess.*
*although technically her title is now Duchess of Cambridge
This brings me to today's post: REAL Princess style.
Have you ever noticed how many women, when asked how they want to look on their wedding day, answer "like a princess?" I'm not going to comment on how it's somewhat frightening that these women haven't outgrown little-girl fantasies…at least, not any further. But I feel compelled to point out what Princess Kate did well…and what most women striving for a princess look do not.
Tasteful Cleavage
While everyone was comparing Kate's gown to the famous (and often emulated) one worn by Grace Kelly in 1956 (which is something that usually really bothers me… every time a celebrity bride wears a bit of lace above her waist, suddenly it recalls Princess Grace? Please.), I was thinking it was also a nice homage to Princess Margaret's gown from 1960. Observe the differences, but note one commonality: how attractively and demurely each woman's bust is clothed.
Princess Grace: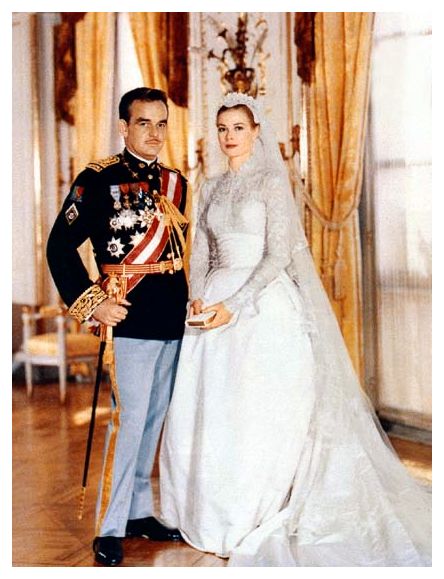 Princess Margaret:

Princess Kate:

Like both princesses, Kate has a hidden corset and padded hip. Like Margaret, she has a plunging V-neckline and an A-line skirt, unlike the high neck, cummerbund and bell-skirt of Princess Grace. Anyway, that's a nit-picky digression from the current topic of tasteful cleavage.
Notice how each woman's bust is attractively showcased, without actually showing the twins? THAT is Princess style, not this:
Or this:

Now, a more well-endowed woman wearing a strapless gown may not be able to avoid some cleavage. The rule here is simple: an inch or less of "crack" is appropriate. Anything more and you run the risk of looking low-class.
The Hidden Corset
Princess Kate is naturally very thin. She did not need any kind of tightening or smoothing foundation garment, but she wore one anyway for the same reason that all women wear foundation garments: it enhanced her shape.
In her case, the gown had a corset built in, which pulled her tiny waist in even more. Then the hips just below the corset were slightly padded, which gave the illusion of her waist being even smaller! This is a couture style straight from the '50s. Look at how amazing it looks on Audrey Hepburn.
Funny Face:

Roman Holiday:

Now, the power of this design element is that you can't see the corset. Women still flock to corseted wedding gowns because of all the amazing, figure-changing magic they have, but exposing the corset ruins the illusion. It's like letting your Spanx slip show.
There are some nice-looking corset gowns, but if you're going for Princess style…just remember that all those Princesses above are wearing corsets…and none of them show.

Tasteful Bling
Bling is the thing: from our smart phones to our shoes, woman are sticking crystals on everything. Brides are particularly afflicted with this magpie-like fascination of all things shiny. They want rhinstones in their hair, on their bodies, on the gown, and all over the reception. Even if you go the expensive route with Swarovski crystals…this is closer to birthday party princess than sophisticated wedding princess.
Note the simplicity of Princess Kate's jewelry:

A smaller-sized tiara, delicate earrings, no necklace. It's there to accent her beauty, which is the whole point of adornment in the first place. Overdo the bling and you'll have people looking at their reflection in your dress.
Some bling is fine, even advisable. Kate's second gown had a beaded belt as the sole focal point (and I actually think this was a little too plain, for a royal wedding. Should've left the tiara on.)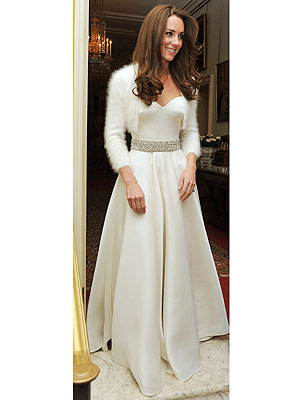 But please, for the love of your guests' eyesight, don't do this:

Or this:

If you're planning a fairytale princess wedding, try to remember that a princess is always understated, demure, and errs on the side of simplicity. Even in Disney movies.